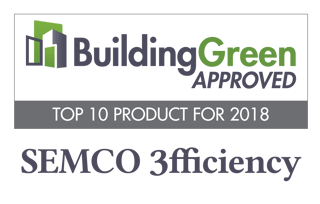 3fficiency was recognized as one of the Top 10 Green Building Products for 2018 by BuildingGreen at the annual Greenbuild Expo.
BuildingGreen, an unbiased resource for sustainable building strategies, has been recognizing products that promote green design and architecture through its Top 10 Awards since 2001. The selections are announced at the Greenbuild Expo, the world's largest conference focused on green building practices.
3fficiency is the HVAC industry's first total indoor air quality (IAQ) system approach to chilled beam design and it surpasses the AHSRAE 90.1 energy standard by up to 30 percent.
"BuildingGreen has long recognized the energy and space-saving benefits of active chilled beams, but they could be a challenge to specify due to potential problems with humidity and comfort," Brent Ehrlich, Products and Materials specialist at BuildingGreen, said. "By combining SEMCO's active chilled beams, NEUTON control module, and Pinnacle dedicated outdoor air system into one system, SEMCO's 3fficiency system provides critical humidity control and the ability to heat and cool different zones in a package that is easier to install and commission."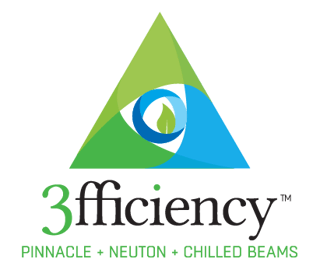 The three components included in the system package are:

Pinnacle™ dedicated outside air system (DOAS) - manages 100% of a building's ventilation and indoor humidity load in a single package

NEUTON™ chilled beam pump module- manages the water system to allow for a building level occupant control that is superior to all other systems.

Active chilled beams - provide comfort with low air velocities in the room by mixing the supply air with the ambient air




A direct replacement for VRF: Exchanging Refrigerant for Water
3fficiency can directly replace Variable Refrigerant Flow (VRF) and provide even more savings through the use of a water to water chiller and using the condenser water as the hot water for the system.
No more concerns with ASHRAE 15
No refrigerant leaks
No large electrical wire runs
A whole building Variable WATER Flow System!